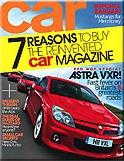 Widely respected dead-tree purveyor Car magazine is this month using the Zinio Express system to deliver a taster of its September issue.
Zinio Express allows a browser to display a tweaked PDF version of a paper product - these days most magazines are sent to the printers as PDFs, so the electronic and paper versions ought to look identical.
Zinio is a US-based firm specialising in electronic publishing. As well as Zinio Express, it also supplies dedicated Zinio Reader software to sit on your Windows or Mac OS X desktop and let you read the full version of quite a few magazines from around the world – once you've paid your subscription charges, naturally. The Reader downloads issues while you're not looking, as soon as they are published. (Zinio subscribers can select the September Car taster-issue here).
The Zinio files are doused in all kinds of copy protection, so you can't just send the issue on to a hundred friends, although you can pass each one on a couple of times, apparently.
Anyway, Car is strangely absent from Zinio's list of available automotive titles, so perhaps the September flyer is a taster for punters and publisher alike.
There are probably plenty of Car readers - particularly in the US - who would jump at the chance to get the full issue in bits and bytes for around a dollar a time, if the Zinio prices of Car & Driver and Motor Trend are anything to go by.
Let's hope the current experiment is a success.